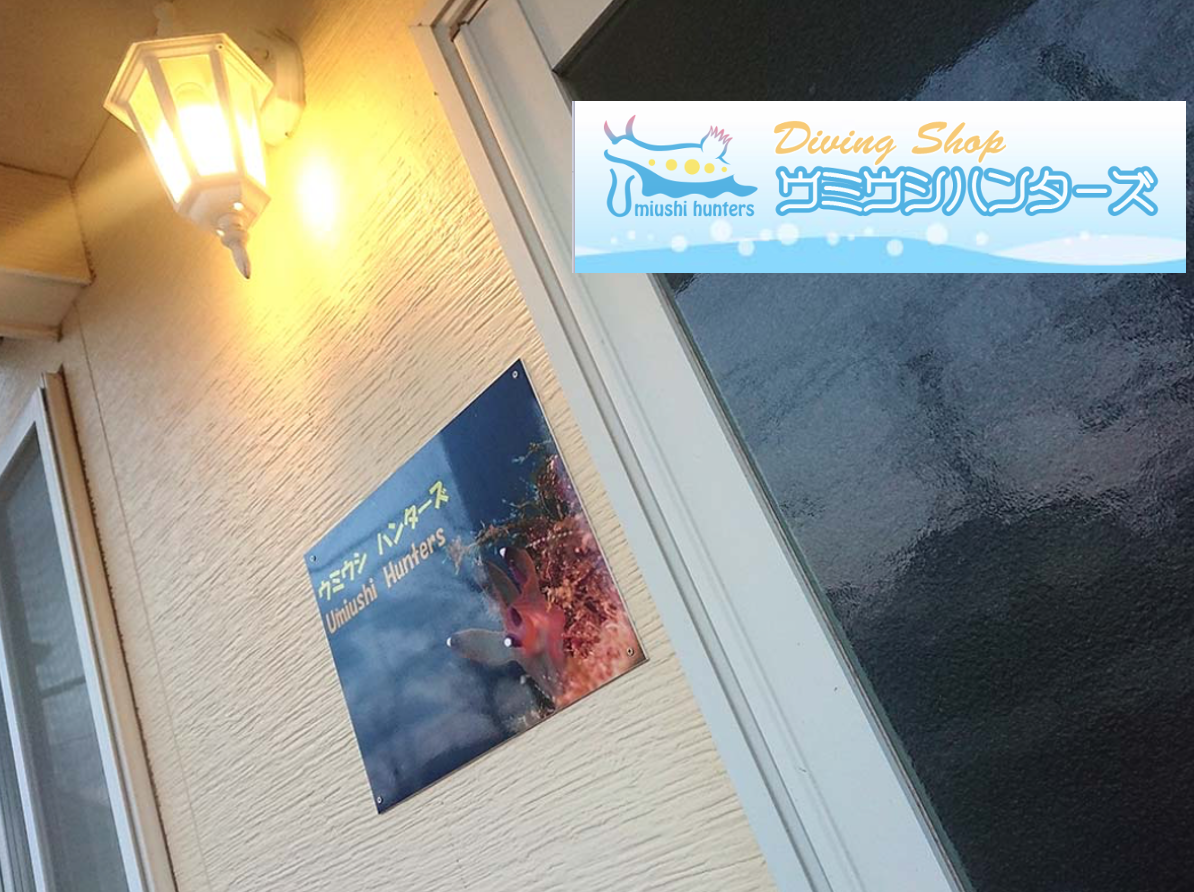 Umiushi Hunters (Nudibranch Huters)
ウミウシハンターズ
Our home ground, Jyogashima Island and Miyakawa bay is located at Miura Peninsula, Kanagawa wich is only 90min from the center of Tokyo. we specialize in nudibranch diving and Jyogashima Island and Miyakawa Bay is the best Nudibranch diving spot near Tokyo. Let us show you Japan's Nudibranch world!
Booking & Pay Method
Booking through NPO Japan Diving Experience
Booking Information
NPO will book the Diving on behalf of you
-No payment needed to NPO.
-Diving payment and any other booking payment is required to be done upon checkin on the day of diving.
-Diving booking may be cancelled due to weather on the day of Diving.  
Shop Rules
We offer pick up and pick down from Yokohama station which is a 20-30min train ride from Center of Tokyo.
We also do pick ups from  the local train staion near  our diving spots.
Please enquire.
 NPO Japan Diving Experience advises you to proactively fill out the form linked from below.
 It is a Medical Statement provided by The World Recreational Scuba Training Council (WRSTC).
Link to RSTC Medical form
http://wrstc.com/downloads/10%20-%20Medical%20Guidelines.pdf
Diving Fee
2Tank Boat Guide 17,600yen (Include Guide fee/Weights)
3Tank Boat Guide 24,200yen (Include Guide fee/Weights) *Need to catch the 09:00 boat
2Tank Beach Guide 13,200yen (Include Guide fee/Weights)
1Tank Boat + 1Tank Beach Guide 15,400yen (Include Guide fee/Weights)
Additional 1Tank Beach dive option 3,300yen
Diving Information
*The price includes Tax.
The diving fee may change without notice so please inquire NPO Japan Diving Experience for details.
【Cancellation Policy】
We will charge full service fare if you don't contact us on the day of service. 
Rental Fee
Please Bring your own gear
Location
Address
27-20-5 Kamariyanishi, Yokohama Kanazawa-ku, Kanagawa 236-0046 Japan
Booking through NPO Japan Diving Experience