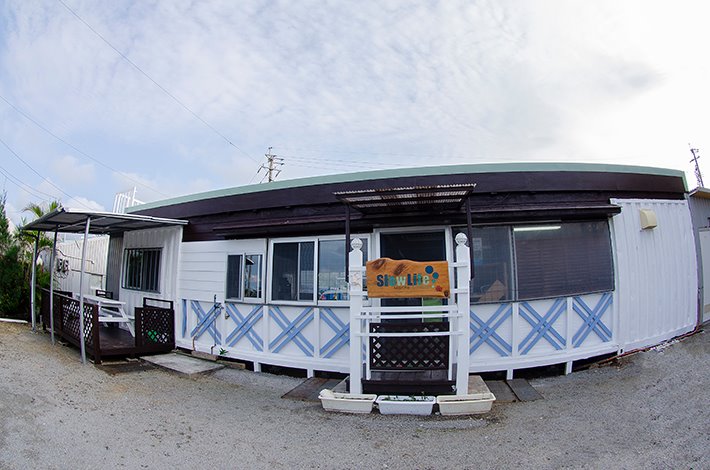 SLOW LIFE MARINE SERVICE
スローライフマリンサービス
SLOW LIFE MARINE SERVICE started it's service at 2005, by the owner and guide, Yasu. Yasu has an 16years guide experience all around the world, including Palau.
Please advise us what you want to see, and we will do our best to cater to your needs.
The service is situated near the dock, it is only a 5min walk to the boat.
 
【Note from NPO】
On the day of Diving, the Diving Shop will have limited English available. But please don't be alarmed. NPO will assist regarding prior questions and enquiry for your booking. We will advise you how your diving will be on the day. The Guide will communicate with you using translation application on land and during your dive, sign language with will be reviewed before your dive.
Booking & Pay Method
Booking through NPO Japan Diving Experience
Booking Information
The booking will be done through NPO Japan Diving Experience. NPO Japan Diving Experience will try to clarify your concerns before your diving trip.
Shop Rules
*We have a strict guiding rule of only 4 guests per 1 guide.
【Note from NPO】
Diving in Japan, like other diving service around the globe, require you to fill out a "Medical form" before diving. Refusing to do this, you may not be allowed to dive due to safety precautions.
NPO Japan Diving Experience advises you to proactively fill out the form linked from below.
It is a Medical Statement provided by The World Recreational Scuba Training Council (WRSTC).
Link to RSTC Medical form
http://wrstc.com/downloads/10%20-%20Medical%20Guidelines.pdf
Diving Fee
【Onnason area(Cape Maeda/Yamada/Manza/East coast/Zampa)】
1Tank Boat 9,000yen (Include Guide fee/Weights)
2Tank Boat 14,000yen (Include Guide fee/Weights)
3Tank Boat 19,000yen (Include Guide fee/Weights)
【Excursion diving】
Kerama area 2 Tank Boat 16,500yen
Aguni area 2 Tank Boat 18,000yen
Wreck Emonds(40m) 2 Tank Boat 21,000yen
3rd Tank : 5,000yen
Diving Information
*The price does not include Tax.
The diving fee may change without notice so please inquire NPO Japan Diving Experience for details.
 *Minimum number of people needed for a tour is 2. Please inquire if you are a single party.
Rental Fee
Full rental (1st day) 3,000yen
Regulator 1,000yen
Wet Suite 1,000yen
BCD 1,000yen
Mask/Fin/snorkel 500yen(each)
Underwater light 1000yen
Digital camera rental(4GB SD card incl.) 2,500yen
Dive computer 1,500yen
Rental Information
*The price does not include Tax. 
The rental fee may change without notice so please inquire NPO Japan Diving Experience for details.     
 *Rental fee(Per day)
Booking through NPO Japan Diving Experience