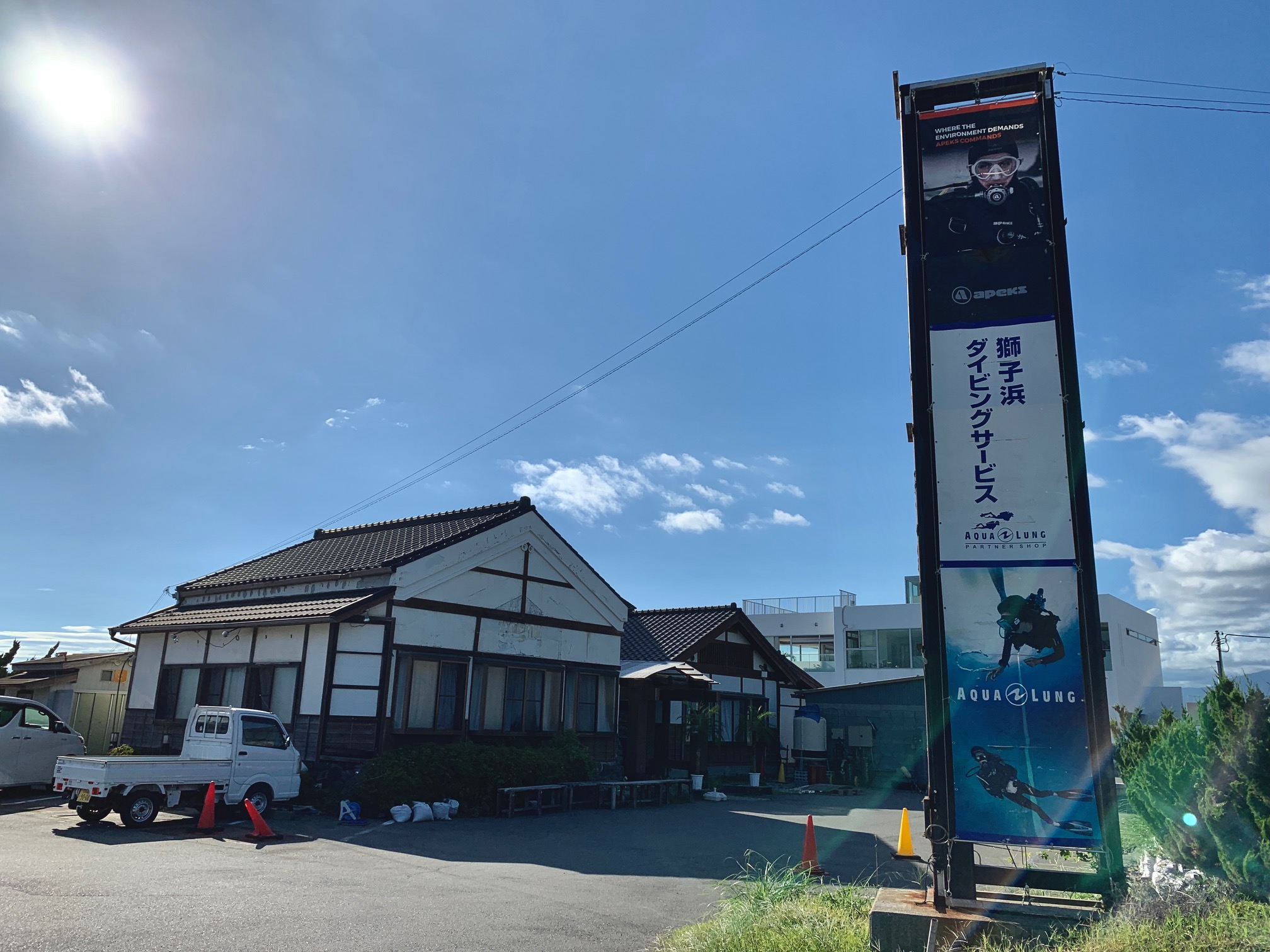 Shishihama Diving Service
獅子浜ダイビングサービス
The ocean around Shishihama is very unique.
 There are marine life that is different compared to diving points near by.  The steep slope going down to 40meters are sandy and full of rocks and boulders. On the bottom, it is covered by soft mud.
 Giving home to species unique to this environment. 
What's great about diving at Shishihama is that everything's close.             
1)By car, Numazu interchange of the Tomei expressway is close. It is only about 30-40min from the exit. Which make Shishihama the closest diving destination in Izu peninsula from Tokyo.                              
2)By Train, JR Numazu station is close. From Numazu station you can catch the local bus to Shishihama.(Please inquire details)
3)Parking area → Setting area → Entry point are all next to each other. Setting area is only a few seconds from the parking area. The diving entry point is only 30seconds away from the setting area.
4)From the entry point to the depth of 5meters, and down to 30meters is close. It only takes 5minutes to reach to the depth of 30meters.
Due to this merits, Shishihama is very popular to Tokyo area divers and also to many Tech divers .            
【Note from NPO】
On the day of Diving, the Diving Shop will have limited English available. But please don't be alarmed. NPO will assist regarding prior questions and enquiry for your booking. We will advise you how your diving will be on the day. The Guide will communicate with you using translation application in land and during your dive, sign language with will be reviewed before your dive.
Booking & Pay Method
Booking through NPO Japan Diving Experience
Booking Information
The booking will be done through NPO Japan Diving Experience. NPO Japan Diving Experience will try to clarify your concerns before your diving trip.
Shop Rules
【Note from NPO】
Diving in Japan, like other diving service around the globe, require you to fill out a "Medical form" before diving. Refusing to do this, you may not be allowed to dive due to safety precautions.
NPO Japan Diving Experience advises you to proactively fill out the form linked from below.
It is a Medical Statement provided by The World Recreational Scuba Training Council (WRSTC).
Link to RSTC Medical form
http://wrstc.com/downloads/10%20-%20Medical%20Guidelines.pdf
Diving Fee
2Tank Beach Guide 10,000yen (Include Guide fee/Weights)
Diving Information
*The price does not include Tax.
The diving fee may change without notice so please inquire NPO Japan Diving Experience for details.
Rental Fee
Regulator 2,000yen
BCD 2,000yen
Wet Suit 2,000yen
Dry Suit 5,000yen
Mask/Snorkel set 500yen
Fin 500yen
Boots 500yen
Underwater torch 500yen
Rental Information
*We have large size rental gear.
 i.e. Wet suite size to fit height of 190cm. Please inquire what is available for you.                      
 *The price does not include Tax.
The rental fee may change without notice so please inquire NPO Japan Diving Experience for details.
Location
Address
17-1 Shishihama, Numazu-shi, Shizuoka prefecture
Access Information
By Car
1.Take the Route414 toward Osezaki after getting off the Tomei Expressway Numazu interchange
2.About 30minutes on Route 414, You will see the sign on your right.                   
By Train
1. Get off at JR Tokaido line, Numazu station. Go out side from the South exit. on your left, you will see the local bus stops. You can take either the IzuHakone Bus or the Tokai bus to "Shizuura chiku center mae" stop. It will be a 200meter walk from the bus stop.
*We offer complimentary shuttle service to and from Numazu Station so please request this service if you require.
●Google map
https://www.google.com/maps/dir/?api=1&destination=35.04749049999999,138.88632929999994
Booking through NPO Japan Diving Experience