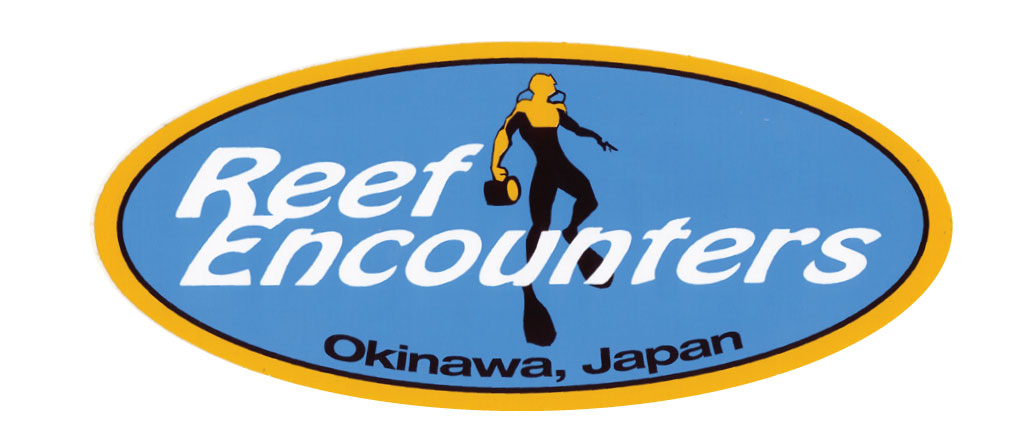 Reef Encounters International
Exploring the Underwater Wonders of Okinawa!
Reef Encounters is the premier dive shop on Okinawa for the non-Japanese speaking divers visiting the islands.  Our internationally renowned staff has over 20 years experience guiding divers over the reefs of Okinawa.  With staff speaking English, Japanese, Mandarin, Cantonese, Portuguese and Spanish we can teach and guide confidently for all our international clientele.  Now also offering services on MCAS Iwakuni for the military folks stationed up north to get their dive on!
Exploring the Southern Islands of Japan
Reef Encounters main office is located on the main island of Okinawa, which allows us to explore various dive sites daily.   Ranging from the Kerama islands, Rukan Atoll, the wreck of the USS Emmons, the deep walls of Onna, the luxurious carpets of soft coral on our house reef off the Miyagi Coast or the azure blue water of Maeda Misaki are all just a short drive or boat ride away.
Reef Encounters was founded in 1995 in Okinawa, Japan by Doug Bennett when he first became a NAUI instructor.  The founding principle of offering quality dive training with small classes and highly skilled instructors has not changed in the ensuing 20 years.  Reef Encounters has always striven to excel in teaching divers the best dive skills so that they could enjoy their time underwater.  Emphasis on quality over quantity has always been a hallmark of Reef Encounters training.  Over the 20 years the shop has been in existence we have introduced 1000's of new divers to the amazement of the underwater world and produced 100's of instructors.  Over time we have expanded our offering and now have a full service retail facility to outfit our divers with the best gear available at competitive prices worldwide and we offer a full range of technical training so that the more adventurous of our clients can push their limits even further.  Our penchant for quality and attention to detail has made the Reef Encounter brand famous in diving circles as we have expanded our reach and now offer training services as far afield Pemba, Tanzania and dive safety oversight for such diving expeditions on shoots all over the world headed by BBC, Paramount Pictures, NHK, the Discovery Channel and more.  So if you want the best to train you or show you the wonders of the underwater world let Reef Encounters take you there.
Boat Dives: Exploring the Outer Reefs
We offer day trips for certified divers, intro divers, and snorkelers out on our 40ft cruiser - Reef Encounter I. We will head out to explore various sites to include the spectacular dive/snorkeling sites located in the the Kerama island group, which is world famous for its magnificent coral reefs and abundant sea life. We also take day trips to the Chiibishi Islands, Rukan Atoll,  Onna Village area, and Sesoko Island. Dive Sites are chosen based on weather, waves, swell and divers skill.  
We offer 2 tank, 3 tank, and snorkeling trips from our boat.
Booking & Pay Method
Direct Shop Booking
Booking Information
Bookin Directly with the Diving Service
Feel free to contact us with any questions about tours or training. Our reservations staff can read English, Japanese, Mandarin or Cantonese so any of these languages are fine.  Please include in your email:  Your current certification level if any, how many dives you have, what class or type of trip or class you are interested in, how many people in your group and when you are planning on coming.  The reservation staff can assist with any questions you have about Okinawa and the surrounding islands.
Shop Details
Okinawa-Chibishi Islands

Okinawa-Ginoza

Okinawa-Kerama Islands

Okinawa-Kinwan Bay

Okinawa-Motobu Peninsula

Okinawa-Onna Village

Okinawa-Sunabe

81-098-995-9414 (English, Japanese)

info@reefencounters.org (English, Japanese)

NAUI
Shop Rules
Reef Encounter I is our 40 foot dive boat used for the majority of our diving excursions to the Kerama islands and other areas.  She comfortable seats over 20 people but we limit diving runs to 15 divers and snorkeling trips to 20 people.  If you have a larger group contact us for special arrangements on one of Okinawa's larger charter vessels. 
RE I can also be booked for private parties and sunset cruises or just about any occasion you can think of. 
Here is a typical schedule for a day trip out to the islands:
7:15 am Meet at the shop to get gear sorted, payment and paperwork
8:00 am - Move to the Harbor, set up gear, prepare for departure
8:45 am - Depart for Dives Sites
10:00 am - Arrive at first dive site, dive preparation, enter the water
12:00 am - Arrive at second dive site, dive preparation, enter the water
1:00 - 2:00 pm - Lunch break at second dive site, snorkeling, nap time, relax
2:30 pm - Depart for final dive (usually a drift dive), preparation, enter the water
3:30 pm - Leave the Keramas, head home
4:30 pm - Arrive at the marina, drive to shop for debriefing and log book, sayonara!
All day trips are totally dependant on weather conditions, currents, wind, and tide changes.  Time schedules are very flexible because of Okinawa's sudden changes in weather and different distances to dive sites.  We are normally back in port no later than 1700 but it can happen.  Please check with us for current conditions and schedules.
【Booking and Cancellation Policy】
Please make sure you read and understand the booking and refund policy.  If you have any questions please make sure to ask the staff.
Diving / Snorkeling
Diving/Snorkeling trips and certification courses may be canceled or rescheduled due to the weather conditions that are not suitable for marine sports activities, such as high waves and strong winds. Dive sites are picked daily based on weather and ocean conditions, your safety and the safety of our staff is paramount in our operation.  If your requested dive site is unavailable due to weather we will do our best to find a suitable alternative for you.
Seats on a tour are not guaranteed until a deposit is made.  Just sending an email or making a phone call does not confirm your seat(s).  Deposits can be made via paypal to shop@reefencounters.org at our online store, via bank transfer set up with one of our reservation staff, or if you are on island stopping in and making and in person payment via cash or credit card.
Our diving instructors / dive masters / boat captain make decision about the selection of the dive sites and/or cancellation of the diving trips. In making decisions, we regard yours and our own safety as the most important. As dive sites are very variable due to weather we can not guarantee a particular site. A change in dive site does not qualify for a refund.
-Boat Diving Trips
When the waves are or become bigger than 2.0m, we may cancel our boat trips or return to the nearest port. For instance, we may change the diving sites from the Keramas to closer to the Okinawa islands (Chiibishi or Ginowan reef) or to shore diving.
-Certification Courses
If the weather condition does not allow us to have calm shallow water, we may use a pool designed for diving training for your Confined Water training sessions. If the ocean conditions are not good enough for Open Water training, your training dives will be rescheduled.
Refund Policy
Cancellation due to the weather condition or mechanical reasons that the boat does not leave port – full refund of all deposits/payments for diving.
Decisions on weather conditions and safety of the boat are at the sole discretion of the captain. Weather conditions that may cause cancellation- waves over 2.0 meters, typhoons, severe weather warning forecast.
For circumstances beyond the customers control such as canceled or delayed flights an attempt to reschedule will be made and if impossible a refund will be issued.
Your bookings are seen as a contract with us- when you schedule a dive/class we make sure that we have the personnel available to teach your course and reserve seats on a boat that can not be sold to someone else.  As people need to be paid and boat seats need to be paid for refunds can not be given for late cancellations.
Last minute illness, a poor mood, cloudy or rainy weather, a hangover or jet lag are not acceptable reasons to rate a refund for a scheduled course or trip.  If you become seasick during a trip and can not complete the number of dives booked this is not a reason for a refund- it is your responsibility to ensure that you have taken steps to avoid seasickness- there is medicine available at most Japanese pharmacies to prevent seasickness.  ("Yoidomae" or boat sickness medicine will get you what you need)
​Depending on when you make the cancellation, the following cancellation fee will apply for all courses and dive tours.  Cancellation fees for hotels and airlines vary so if booking an all inclusive package of hotel and diving or hotel, airfare and diving separate rates apply for the hotel and airfare cancellations, please inquire for the exact policy when booking an all inclusive tour.
Cancellation Refund Policy for Diving and Dive Classes:
8 days of more advance notice:  Full Refund for all diving booked (hotel and airline charges may vary)
3-7  days  80% refund of all diving fees(hotel and airline charges may vary)
48 hours 50% refund of all diving fees (most hotel and airlines fees are 0% refund by this time)
24 hours or less before the scheduled dive or tour 0% refund
Dropping Out
-Cancellation of multiple dives / trips
If you already paid for multiple dives for a day (2 dives, 3 dives) and decided to do less dives (at the dive site), you do not get refund
-There is no refund for unused portions of a package or canceling part of a package once it has already started. (Dives/classes canceled due to the boat not going out, typhoons or mechanical failure are subject to refunds)
-Certification Courses
We do not refund your course fee if you decided to drop out from your certification course after it has started.  Dropping the course before it starts is subject to the above listed refund policy.  When paying for a course you do not pay for certification, you pay for training- you must meet the requirements for your particular course to earn certification.  It is possible to fail a course; failure does not qualify you for a refund.
Your instructor will determine if you can get certified or not, judging how you are meeting the requirements for your particular course (skill demonstration, comfort level in the water, and total dive skills) and your score on written examination and quizzes.
If you do not follow your instructors' directions, or if you cannot successfully demonstrate the skills that meet the requirement, you may not get certified.  If you disagree with your instructor's evaluation of your diving skills you can request a reevaluation by the Training Director or another Reef Encounters instructor.  All students who do not earn certification in a course will be provided with a written explanation of why they were not certified.
Rental/Loaned Gear Loss or damage
Rented/loaned gear for class and dives is the responsibility of the client – you will be charged for loss or damage of rental gear. Divers dunking a regulator with the dust cap off will be charged a Y2000 maintenance fee as the reg needs to be serviced before putting it back in use.  Please be careful with the gear we loan out to you.
Torn mouthpieces or broken fin/mask straps are not subject to replacement fees as this is a part of normal wear and tear of the gear.  If you notice your mouthpiece or mask/fins straps are worn let us know so we change them right away so there is not a problem.  (We try to keep on top of this but during the busy season we sometimes miss something.)   
Diving Fee
2- tank boat dive- Onna-son, Maeda Blue Cave, Ginowan, Kin and Chibishi : Y14,000
3-tank boat dive- Keramas, Onna, Ginowan, Kin, Maeda Y17,000
3 tank boat dive- Hedo Air Dome, Northern area Y21,000 (four person minimum booking)
2 tank USS Emmons - Y21,000
Diving Information
*For beach diving inquiry, please contact our service directly.
*All prices listed are for single day bookings, prices are listed per person.  Contact us for special pricing for multi-day bookings, packages w/accommodation, group (4+divers) discounts, or special sale pricing.  All trips and services not available everyday.  Prices subject to change. Prices do not include tax.
Rental Fee
Full kit rental: Reg, BC, Wetsuit, Mask, Fins, Booties, Dive Computer Y5500
Regulator Set    Y1,200
BCD Y1,200
Wetsuit              Y1,000
Fins Y800
Booties Y800
Mask/Snorkel Y800
Dive Computer Y1,000
Dive Light Y1,000
U/W Camera Y2,000 (Without memoruy card)
Nitrox Tanks Y1,200
Hooded vest Y800
Weightbelt Y500
Rental Information
*Rental gear is available for use with any of our purchased dives or tours. Reservation of gear at time of booking your tour is suggested to ensure availability.  Tanks and weights are included in all pre-booked dives and classes.
*Technical and Specialty Dive Gear Setups:
Banded Doubles (80s)        Y2,500
Sidemount BC                      Y2,000
40 cuft stage bottle             Y2,000
Dual tank reg setup             Y3,000
Sidemount reg set               Y3,000
HP 100 or 120s                    Y1,500
Custom mixes for decompression gases and bottom mixes available.
02 for decompression or rebreather fills also available check for availability/pricing.
Sofnolime also available for purchase.