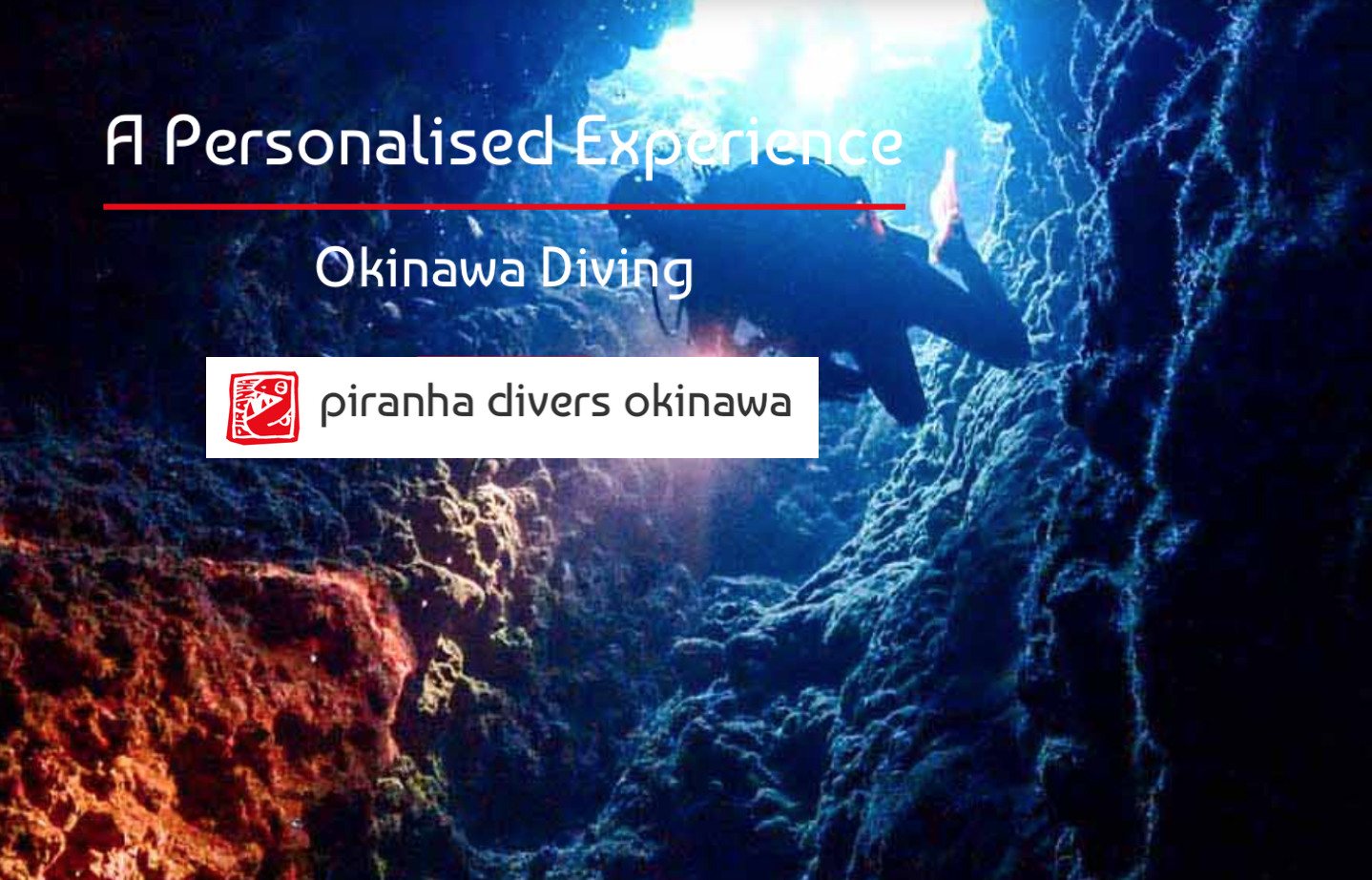 Piranha Divers Okinawa
ピラニアダイバーズ沖縄
Hello, we are Jan and Tomoko and we would love to welcome you here in Okinawa!
We founded Piranha Divers in 2009 in the backyard of our house and since then grew from a small family company to something bigger the "Piranha Family" we are a team of international diving enthusiasts, and ocean lovers. Join us and experience the best diving Japan has to offer, experience fantastic sub-tropical island life, first world safety standards and not to mention, lots of sun, stunning beaches and crystal clear, warm waters (25–30°C most of the year).
Scuba diving in Okinawa means endless reefs, walls and caves, a huge WWII wreck, and incredible marine life – from tiny, strikingly coloured nudibranchs to rays, turtles, sharks and tuna.
We believe you'll love diving in Okinawa with us and we look forward meeting you,
Jan and Tomoko and the team of Piranha Divers.
The Piranha difference or 10 good reasons to join us!
Fun, We offer a personalised experience, all of our diving courses and underwater adventures are held at a ratio of no more than 4:1.
Safety, we always have Emergency Oxygen available at the divesite.
We speak your language, our services are available in English, German, Japanese, Spanish and Portuguese.
Piranha Divers is in the TripAdvisor Hall of Fame for earning a Certificate of Excellence 5 years in a row.
We are a registered PADI Resort since 2016 and as a PADI 5 star Resort since 2017 - All our students will get a personal copy of their training materials either as a hard copy or personal e-learning account.
We Care for the environment, we do not feed fish, care about buoyancy and adopted a dive site early in 2019 through Project Aware and conduct cleanup dives on a regular basis, ask us how.
We have a real shop, with plenty of space, including an air conditioned classroom.
Our Gear is available in sizes XXS to XXXL, we recognise that good fitting gear adds to the fun while good working gear adds to the safety of a great dive. At Piranha we provide both! In addition to that we are certified by manufacturers to work on gear from Aqualung, Apeks, DiveRite and Tusa.
We fill our own cylinders, providing tanks with either a DIN or INT connection, in sizes ranging from 7ltr./50cuf. for children to 18ltr./133cuf. for divers wanting more.
Limited Company - our company is legit, we hold all the permissions and registrations required to legally operate in Japan.
Shop Details
Okinawa-Motobu Peninsula

Okinawa-Onna Village

Okinawa-Sunabe

Okinawa-USS Emmons

098-967-8487 (English, Japanese)

PADI
Shop Rules
Pension Weekend
Japan is justifiably famous for its extensive, well-organized and efficient transportation network. However, this does not necessarily apply when traveling in Okinawa. So, to make our divers' time here as hassle-free as possible, we usually recommend they stay at the small, nearby Pension Weekend while diving with us, only a 5 minutes walk from Piranha Divers' dive shop. Pension Weekend is owned by an local family most of the communication for the booking is done in Japanese which is difficult for most visitors so we are happy to help you with this service. The cost for staying is very reasonable with only 6.000Yen for one person or 10.000Yen for 2 persons, the price includes a healthy breakfast. All rooms have a private bathroom, air-condition and WIFI available. Please read what others had to say about staying at Pension Weekend. (please be aware this place can not be booked online)
 
Diving Fee
(Maeda/Manza area) 2 Boat Dives 15,000yen (Include Guide fee/Weights)
(Maeda/Manza area) 3 Boat Dives 20,000yen (Include Guide fee/Weights)
(USS Emmons/Zampa/Minna Jima area day trip) 2 Boat Dives 20,000yen (Include Guide fee/Weights)
(USS Emmons/Zampa/Minna Jima area day trip) 3 Boat Dives 25,000yen (Include Guide fee/Weights)
(Sunabe/Horseshoe/Gorilla Chop area) 2 Shore Dives 13,000yen (Include Guide fee/Weights)
(Sunabe/Horseshoe/Gorilla Chop area) 3 Shore Dives 18,000yen (Include Guide fee/Weights)
(Sunabe Night Dive) 1 Shore Dives 13,000yen (Include Guide fee/Weights)
Diving Information
*All prices quoted are per diver and include 10% Japanese sales tax.
*The fee may be changed without notice. Please inquire to the diving service directly.   
(General Terms and Conditions))
Where these general terms and conditions do not conform with the general terms and conditions for specific tours or services, these general terms and conditions apply.
1. Introduction
1.1 The following general terms and conditions explain the rules of usage and the content of the contract that the customer enters with Piranha Divers.
1.2 While we strive to provide the service we advertise and want to give you the best possible experience, we do so by reacting and responding to the conditions presented with each tour. As we treat every customer as our best client and endeavour to provide the best service we possibly can, we have created these Terms and Conditions to protect both you, the client, and us, Piranha Divers, and ensure we are able to offer you the experience we promise.
2. Announcements
2.1 Piranha Divers' primary method of communication is email. All requests, confirmations, changes or cancellations must be communicated to the 'mail-me@piranha-divers.jp' email address to be considered; exceptions are indicated in 3.2. Communications made outside of this channel may not be considered and may affect your eligibility in other parts of these Terms and Conditions.
2.2 Any bookings and alterations to bookings made over the phone or in person must be followed up with a response email on behalf of the client. If this is not possible before the tour start date the client must state this during the call.
3. Corrections
3.1 The customer is obliged to be conscious about his transaction account and all the corrections that are performed. Piranha Divers is allowed to make correction to all mistakes or errors regarding collection of payments, issuance of invoices, calculation of commissions and discounts, and other transactions, including refunds and chargebacks.
3.2 The customer is obliged to announce immediately to Piranha Divers if (s)he knows about mistakes or errors that have been made. Depending on what applies, both parties are responsible for correcting the balance of the transaction account in accordance with the correction that has been made.
4. Limitations and Restrictions
4.1 Participation in tours offered by Piranha Divers are contingent on meeting certification and experience requirements. It is the responsibility of the client to produce sufficient proof of certification and experience when requested by Piranha Divers and it is understood that failure to produce proof will result in at least one check dive and may result in a cancellation of their tours without refund.
4.2 Clients participating in tours that involve exceeding the limits of basic qualifications must show us proof of experience and certification to do so.
5. Payments
5.1 Piranha Divers offers multiple payment methods, including cash, credit card and bank transfers.
5.2 Payments must be made within 2 days of the booking to confirm the tour, failure to do so may result in the booking becoming invalid.
6. Responsibility
6.1 Piranha Divers takes your safety seriously and follows the Standards and Procedures of PADI and the Recreational Scuba Training Council. This includes measures to identify responsibility and liability as well as professional insurance covering all aspects of Piranha Divers. In some cases this does not cover the client for certain responsibilities and liabilities.
6.2 Piranha Divers strongly recommends that all clients purchase their own travel and diving insurance to cover unforeseen circumstances arising from vacation activities.
6.3 Subject to our Booking Conditions Piranha Divers is not responsible for any injuries or losses sustained whilst clients are on tours booked with Piranha Divers, whether conducted by Piranha Divers or a third party.
6.4 The client assumes responsibility for their own property, proof of experience and actions while on tour..
6.5 The invalidity of individual clauses of this agreement does not affect the validity of the document as a whole.
7. Loss/Damage of Scuba Equipment
7.1. You are responsible for making sure that all the gear you have been issued during a course or trip is treated well and all items make it back to our rental depot at the end of your dive trip. That means, yes, you will have to pay for 'that mask' you forgot on the boat. We do double check for forgotten gear and items before leaving dive sites and boats but, at the end of the day, the user is ultimately responsible.
7.2. This same policy is valid for training materials belonging to Piranha Divers, books, DVDs, and Final Exam booklets.
8. Customer Declaration
8.1 By agreeing to this application and these general terms and conditions, the client confirms that he has studied the general terms and conditions for partnership with Piranha Divers in detail and accepts all the content of it without limitations and obliges to adhere to it in all aspects.
The client confirms specifically:
A. That he has studied in detail and agrees to the general terms and conditions, specifically about the responsibility of Piranha Divers.
B. That the agreement for services with Piranha Divers is entered into in its own benefit only.
Cancellation Policy:
1. Piranha Divers reserves the right to cancel or alter tours and tour content based on availability, demand, weather or logistical concerns, or due to safety considerations. This may occur with little to no notice to the client, however Piranha Divers will endeavour to communicate any changes to scheduled activities at the earliest possible time. It is the goal of Piranha Divers to find the best solution for any changes or cancellations in activities and may offer alternative dive sites or activities. Piranha Divers will also work with the client on a case-by-case basis for all adjustments and cancellations with the client's interest and safety in mind.
2. The client reserves the right to cancel a tour at any time. Tours cancelled on the behalf of the client are subject to a cancellation fee based on the type of tour booked and a set notice period:
Day Tours - Individuals (1 or 2 participants)
Payment is due in full upon booking.
Up to 48 hours prior to the tour departure time, 90% will be refunded.
Within 48 hours of the tour departure time, no refund is available.
Day Tours - Group Bookings (3 participants or more)
Payment is due in full upon booking.
8 days or more prior to the tour departure, 90% will be refunded.
3 days – 7 days prior to the tour departure, 75% will be refunded.
Within 48 hours of the tour departure time, no refund is available.
Multiple Day Tours and Courses
All rates quoted are based on current purchasing price in Japan. Prices are in Japanese Yen as shown on our web site, however payment in Euros can be arranged where possible if desired. Prices are guaranteed after full payment has been made.
Payment for all multi-day tours and courses is due in full upon booking.
All cancellations must be made formally i.e. by email.
60 days – 30 days prior to tour departure, 90% of the tour price will be refunded.
29 days – 15 days prior to tour departure, 75% of the tour price will be refunded.
14 days – 8 days prior to departure, 25% of the tour will be refunded.
Within 7 days of tour departure, no refund is available.
Bookings for multiple day tours, groups or private tours that have not been paid in full within 3 days of the booking being made will be considered forfeited and may be cancelled.
Rental Fee
Full set(Mask, Fins, Boots, BCD, Regulator, Wetsuit and Dive Computer) 5,000yen
BCD(Dive Rite, Backplate & Wing) 1,000yen
Regulator 1,000yen
Sidemount BCD (ScubaPro, Dive Rite) 1.000 Yen
Sidemount Regulator (Set of 2) 2.000 Yen
Dive Computer 1,000yen
Wetsuit 1,000yen
Mask, Fins, Boots set 1,000yen
Mask 500yen
Snorkel free
Fins(Open Heel Fins) 500yen
Boots(All sizes from 22cm to 32cm are available) 500yen
Rental Camera (Olympus TG 4) 3,500yen
Rental Information
*The price include Tax.
*Rental price is per day.
*The fee may be changed without notice. Please inquire to the diving service directly.