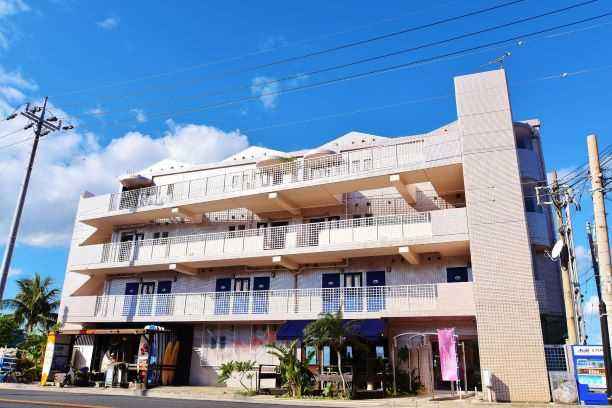 Pink Marlin Club
ピンクマーリンクラブ
We are the largest diving resort in the Nago area,south of Naha city covering the the center diving area on the Okinawa main Island and also to the Kerama Islands.
All diving will be a boat dive(5-20Min) to the wonderful diving points(Zampa/Cape Maeda/Manza area)around our Diving Shop. We sometimes have an excersion trip over to Iie Island, Minna Island, Kerama Island and Aguni Island so please inquire.
As a resort we have a condominium type rooms in our 4 story complex. We also have a diving package rate for the rooms as well. Our Diving shop is located on the B1 floor, with hot showers and Jacuzzi to warm yourself after each dive.1st floor is a restorant and a Bar.
【Note from NPO】
On the day of Diving, the Diving Shop will have limited English available.But please don't be alarmed. NPO will assist regarding prior questions and enquiry for your booking. We will advise you how your diving will be on the day. The Guide will communicate with you using translation application on land and during your dive, sign language with will be reviewed before your dive.
Booking & Pay Method
Booking through NPO Japan Diving Experience
Booking Information
NPO will book the Diving on behalf of you
-No payment needed to NPO.
-Diving payment and any other booking payment is required to be done upon checkin on the day of diving.
-Diving booking may be cancelled due to weather on the day of Diving.  
Shop Details
Okinawa-Chibishi Islands

Okinawa-Kerama Islands

Okinawa-Motobu Peninsula

Okinawa-Onna Village

098-965-6060 (Japanese)

BSAC, NAUI, PADI
Shop Rules
Approx. Time needed for each Diving is 2 hours. (From reception to diving debriefing)
The Diving boat is scheduled to leaves every 2hours,
Shcedule Time (May change depending on the the conditions on the day)
First Boat/9:00 
Secod Boat/11:00 
Third Boat/13:00
Forth Boat/15:00
Fifth Boat/17:00(July-End of September season only)
Please arraive at the Diving shop 1hour before your booked boat time.
It is a walking distance to the boats, so you are required to wear your swimming wear with your we suit worn to your waist when heading to your boat.
(When going to the outer Island excersion trips, there will be a changing space on the boat)
(Note)
-Bring your swimwear/C-Card(*)/Log book(*)/Towel. You must present your C card(Certification Card) issued by a recognized diving orginaization.
(*)This is a compulsary requirement and you may not be able to dive if you forget to bring it with you. 
-You can dive without a diving buddy. We will assign a dive buddy or pair you up with an instructor.
-If you are over 60 years old, we require you to present a writtten doctors permission to dive. (Issued within 3month of your diving date)
* We can not accept your request to dive with below conditions
Asthma, pneumothorax, pulmonary tuberculosis, epilepsy, diabetes, heart disease, during pregnancy, high blood pressure.
You will be required to sign a concensus form on the day of diving.
【Note from NPO】
Diving in Japan, like other diving service around the globe, require you to fill out a "Medical form" before diving. Refusing to do this, you may not be allowed to dive due to safety precautions.
NPO Japan Diving Experience advises you to proactively fill out the form linked from below.
It is a Medical Statement provided by The World Recreational Scuba Training Council (WRSTC).
Link to RSTC Medical form
http://wrstc.com/downloads/10%20-%20Medical%20Guidelines.pdf
Diving Fee
1Tank 7,000yen(Include Boat fee/Guide fee/Weights)
2Tank 13,000yen(Include Boat fee/Guide fee/Weights)
3Tank 20,000yen(Include Boat fee/Guide fee/Weights)
4Tank 27,000yen(Include Boat fee/Guide fee/Weights)
Diving Information
Please inquire price and booking for the outer Islands(etc. Kerama/ Aguni Island)
Price for Enriched air
1Tank 8,000yen(Include Boat fee/Guide fee/Weights)
2Tank 15,000yen(Include Boat fee/Guide fee/Weights)
3Tank 20,000yen(Include Boat fee/Guide fee/Weights)
4Tank 31,000yen(Include Boat fee/Guide fee/Weights)
(note)Please prepare your own Dive computer. If need rental gear for Enriched usage,please refer to rental section.
Rental Fee
Full rental (Suits/Gear) 6,000yen
BCD 2,000yen
Regulator 2,000yen
Wet Suit 1,500yen
Mask/Fin/Boots 2,000yen
Rental Information
For enriched air diving
Full rental (Suits/Gear) 7,500yen
regulator 3,500yen
Dive computer(set for Enriched air)2,000yen
Booking through NPO Japan Diving Experience