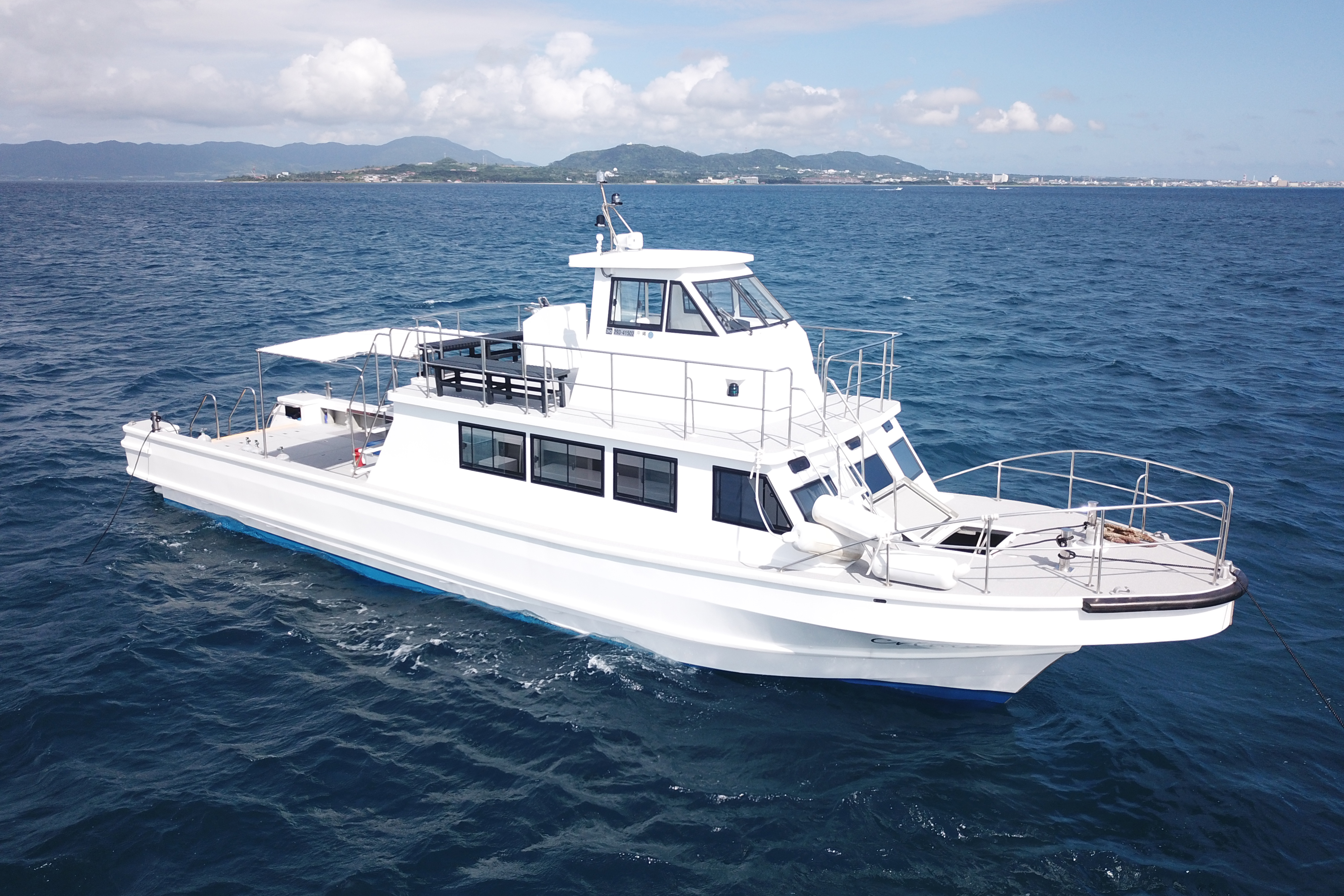 MEGLOOP
メグループ
We offer fun diving service and also specialized underwater photography guiding for our guests.
If you want to improve your photography skills, we can assist you. We try hard to keep our photographic skills high and knowledge of the underwater marine life extensive.We will introduce you the very best of the ocean of Ishigaki.
We are a proud owner of a brand new  large size diving boat.
【Note from NPO】
On the day of Diving, the Diving Shop will have limited English available. But please don't be alarmed. NPO will assist regarding prior questions and enquiry for your booking. We will advise you how your diving will be on the day. The Guide will communicate with you using translation application on land and during your dive, sign language with will be reviewed before your dive.
Booking & Pay Method
Booking through NPO Japan Diving Experience
Booking Information
The booking will be done through NPO Japan Diving Experience. NPO Japan Diving Experience will try to clarify your concerns before your diving trip.
Shop Details
Okinawa-Ishigakijima Island

0980-82-1353 (Japanese)

megloop39@gmail.com (Japanese)

PADI
Shop Rules
We set our diving time longer than other fun diving services as we would like ether underwater photographers more time with each photos. Due to this reason, we like to choose a shallower and less stressful diving sites. With your request, we can do drift diving and also deep water diving. We will not go to the Manta points without a request. So if you want to see the Mantas, please make sure to advise us. We offer 10liter steel tanks, but also can arrange a 12 liter tan for you. We also provide enriched air tanks with additional fees.
【Note from NPO】
Diving in Japan, like other diving service around the globe, require you to fill out a "Medical form" before diving. Refusing to do this, you may not be allowed to dive due to safety precautions.
NPO Japan Diving Experience advises you to proactively fill out the form linked from below.
It is a Medical Statement provided by The World Recreational Scuba Training Council (WRSTC).
Link to RSTC Medical form
http://wrstc.com/downloads/10%20-%20Medical%20Guidelines.pdf
Diving Fee
1Tank Boat 10,000yen (Include Guide fee/Weights)
2Tank Boat 13,000yen (Include Guide fee/Weights)
3Tank Boat 18,000yen (Include Guide fee/Weights)
(Night Dive) 1Tank Boat 11,000yen (Include Guide fee/Weights)
(Night Dive) 2Tank Boat 16,000yen (Include Guide fee/Weights)
Diving Information
*The price does not include Tax.
The diving fee may change without notice so please inquire NPO Japan Diving Experience for details.
 *Accept major Credit Cards
Rental Fee
Full rental 3,000yen
Regulator 1,000yen
BCD 1,000yen
Wet Suit 1,000yen
Mask/Fin/snorkel 500yen(each)
Underwater light 1,000yen
Digital camera rental 3,000yen
Dive computer 1,000yen
Rental Information
*The price does not include Tax.
The rental fee may change without notice so please inquire NPO Japan Diving Experience for details.     
*Accept major Credit Cards
Booking through NPO Japan Diving Experience