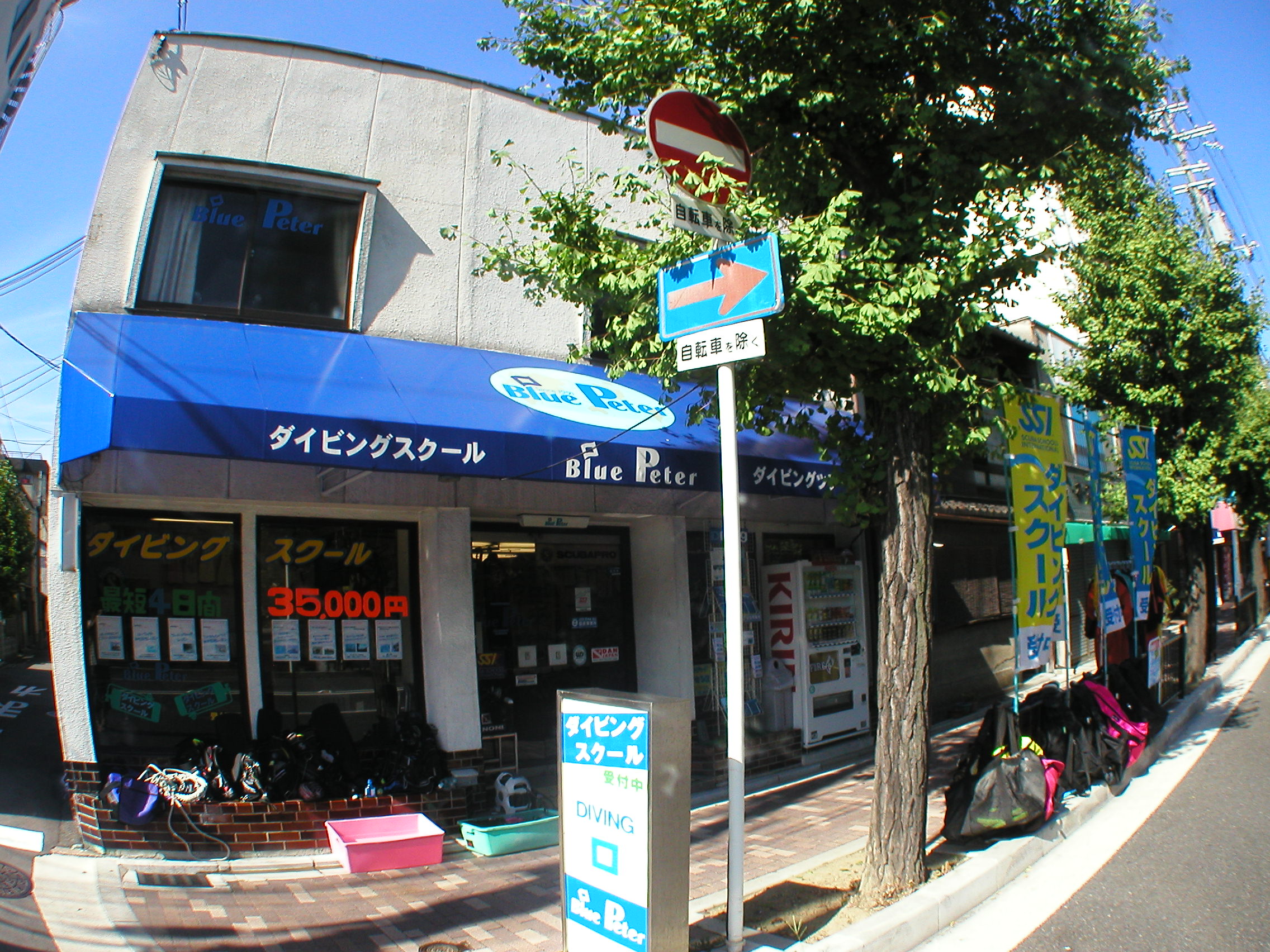 Kyoto Diving School Blue Peter
京都 ダイビングスクール ブルーピーター
"Japanese Giant Salamander Encounter!!"
We are a diving shop operating in the center of Kyoto since 1991, organizing diving excursion trips to Sue and the surrounding oceans. We focus on skill brush up for local divers and also put importance to introducing the beautiful rivers of Kyoto to the international visitors.
We are proud of our Kamogawa river in Kyoto for it's beauty and it's nature, and this is the reason for our special experience program.
Though the river runs through our beautiful Kyoto city, the upstream mountain area is a wonderful place to snorkel. Here you can snorkel with Japan's special natural monument , The giant Salamander(Andrias japonicus) and endemic river fishes, such as the beautiful red spotted masu trout(Oncorhynchus masou ishikawae) and char(Salvelinus). In the spring time, you can experience snorkeling withe the young sweetfish(Plecoglossus altivelis) a.k.a "Ayu", coming up from the Bay of Osaka, with is another treat for nature and animal lovers all around the globe.
(For Scuba Divers)
Please inquire directly for availability of diving excursion trips offered.
Booking & Pay Method
Direct Shop Booking
Booking Information
Please contact the shop directly through the Inquiry form on this page
Shop Details
Fukui-Minami Echizen

Kyoto-Arashiyama Seiryugawa river

Kyoto-Kumogahata Kamogawa river

075-771-5637 (Japanese)

info@blue-peter.jp (English, Japanese)

SSI
Shop Rules
〇Booking for snorkeling tours need to be make at least 3days prior to the date.
〇The tour may be cancelled due to weather situation, such as rain related increase in the water flow level of the river. This is due to safety concerns.
〇For leisure insurance purpose, below information must be obtained prior to the date.
-Name
-Date of Birth
-Height
-Weight
-Shoe size
〇If you are below the age of 12, you will need parental or guardian to join the tour.
(Health Check)
We may require you to fill out the Medical form linked below.
Please check with the shop check upon inquiry to the shop.
Link to RSTC Medical form
http://wrstc.com/downloads/10%20-%20Medical%20Guidelines.pdf
Diving Fee
(Kamogawa) Japanese Giant Salamander nature tour/River snorkel (3Hours) 7,000yen (Include rental/Guide fee)
(Arashiyama Seiryu Autumn leave river snorkel (3Hours) 8,000yen (Include rental/Guide fee)
(Arashiyama Seiryu Spring river snorkel (3Hours) 8,000yen (Include rental/Guide fee)
Diving Information
 *The price does not include Tax.
The diving fee may change without notice so please inquire to the shop directly.
Rental Fee
All rental gears are included in the snorkeling tours
Rental Information
*All rental is included in the snorkel tour price.
Location
Address
9-41 Higashimaruta-machi,Higashioojinishiiru,Marutamachi,Sakyo-ku,Kyoto-shi,Kyoto