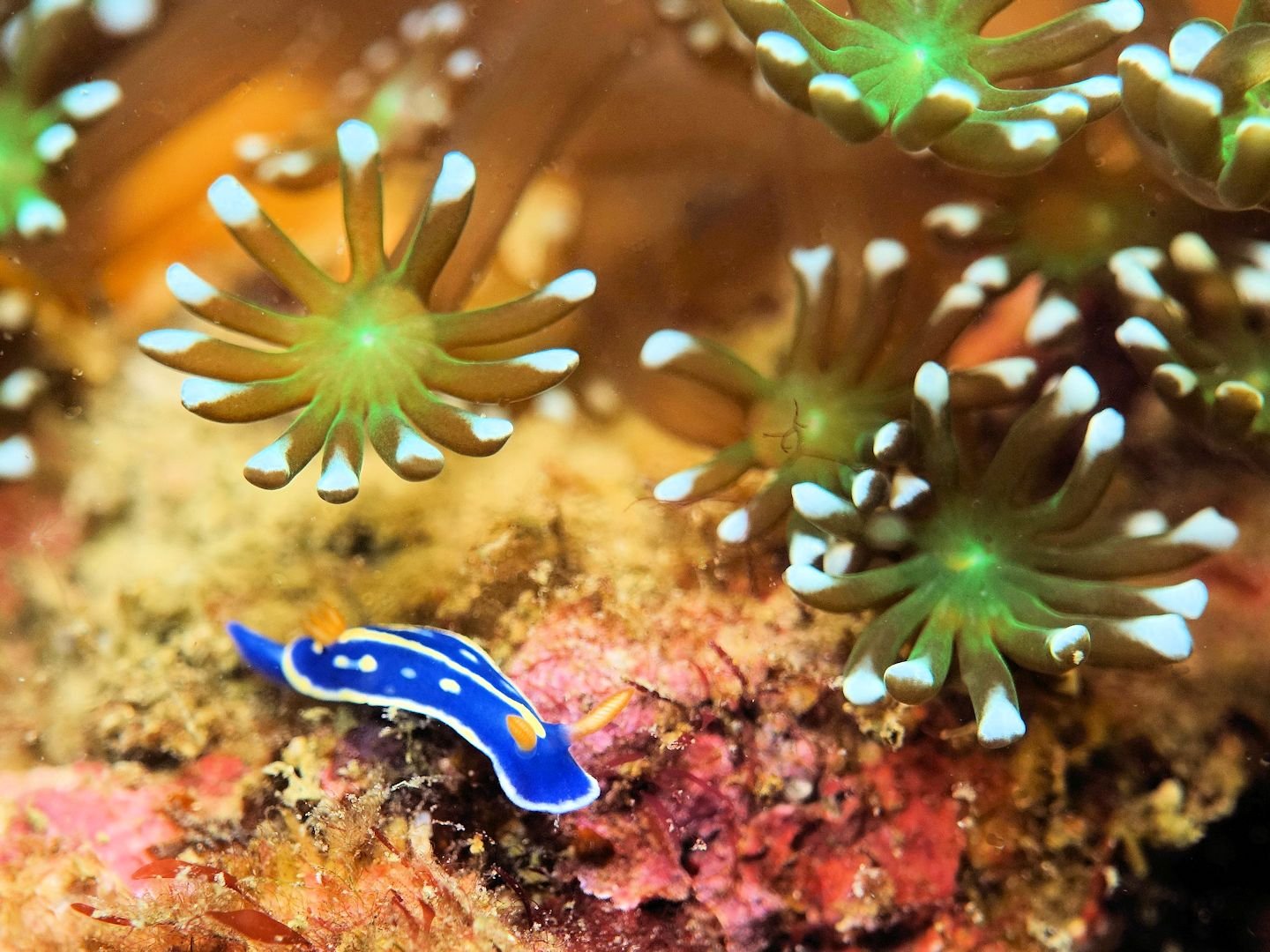 Ehime Diving Center
愛媛ダイビングセンター
We are the secret hideaway dive shiop for the Ocean loving Divers in Ehime prefecture.
Natured by the beautiful and ideal rich marine environment, the Ocean of Akehama and Tsushima are considered , the place to dive to see many marine animals and the vast size of Coral habitation in the Ehime prefecture. We are located at Yawatahama, the west gate to the Beautiful Shikoku Island. You can come to Yawatahama from Tokyo, Osaka and Nagoya regions by highway busses.
We will not rush you as we want to show you this wonderful ocean properly.
Akehama/ Large artificial fishing reef with macro to wide marine animals.
We have a Akehama resort office where we can use as a base while our visit to this diving site.
With the jagged saw tooth shaped coastline and 300meters of beautiful white sand beach there are few large artificial reefs, ideal for marine animals to take shelter. From this reason, they are many schooling fishes, beautiful hard coral gardens, many nudibranch. Also from it's geographical position, you can dive here all year round, rarely not closing during the winter windy conditions.
Tsushima/ No.1 Coral colony in Ehime prefecture
Protected from the past, the underwater nature is untouched. It is said that over 60 types of corals covering the bottom. With the warm current coming into this area, you can see tropical marine life, both macro and wide, large mahi-mahi(Dolphinfish) and many other large schooling fishes. If your really really lucky, our may encounter an odd dolphin or a giant whale shark.
【Note from NPO】
On the day of Diving, the Diving Shop will have limited English available. But please don't be alarmed. NPO will assist regarding prior questions and enquiry for your booking. We will advise you how your diving will be on the day. The Guide will communicate with you using translation application in land and during your dive, sign language with will be reviewed before your dive.
Booking & Pay Method
Booking through NPO Japan Diving Experience
Booking Information
The booking will be done through NPO Japan Diving Experience. NPO Japan Diving Experience will try to clarify your concerns before your diving trip.
Shop Details
Ehime-Akehama

Ehime-Tsushima

Kochi-Otsuki Kashiwajima

Kochi-Uguru Island Okinoshima

0894-36-3088 (Japanese)

ehime-dive@me.pikara.ne.jp (Japanese)

SSI
Shop Rules
Please make your booking inquiry, well in advance as bookings are filled up quickly for the weekends.
We are a small size private tour operator, keeping our guest numbers to a minimum. This will ensure that you are taken care of, properly. The weekend openings are filled up very quickly, but please inquire. The location of where we dive are basically predecided. We mainly dive at Akehama area(60min drive away from the pickup point) but sometime plan a trip to Tsushima area(90min drive away from the pickup point).
Pick up point: Yawatahama
Pick up time:
Diving at Akehama area   08:00/  return 16:00
Diving at Tsushima area   07:00/  return 16:00
Excursion trip to
Okinosihma/kashiwajima area 05:00/ Return 17:00-19:00
(Important Notice)
1)Please fill out the form linked from below.
It is a Medical Statement provided by The World Recreational Scuba Training Council (WRSTC).
●Link to RSTC Medical form
http://wrstc.com/downloads/10%20-%20Medical%20Guidelines.pdf
2)Please check the English translation of the limited liability form that you need to fill out on the day of diving.
https://www.japan-diving-experience.com/japan-diving-information-sharing
Diving Fee
(Akehama area) 2Tank Beach Guide 12,000yen (Include Guide fee/Weights)
(Tsushima area) 2Tank Boat Guide 16,000yen (Include Guide fee/Weights)
Please inquire prices and tour regarding Okinosihma/kashiwajima area
Diving Information
*The price includes the NPO reservation support fee
*The price does not include Tax.
The diving fee may change without notice so please inquire NPO Japan Diving Experience for details.
Rental Fee
Full rental(Wet suit) 5,000yen
Regulator 1,500yen
BCD 1,500yen
Wet Suit 1,000yen
Dry Suit 3,000yen (only few available)
Mask/Snorkel/fins/boots set 1,000yen
Rental Information
*If you want to rent a dry suite, please advise your size including your check and wrist. ( Need to check if we have your size)
(Import Notice)
There are not rentals for below size.
・Height over 190cm
・Weight over100kgs
・Feet size under 21cm of over 29cm
Also no eyeglass masks available.
*The price does not include Tax.
The rental fee may change without notice so please inquire NPO Japan Diving Experience for details.
Booking through NPO Japan Diving Experience