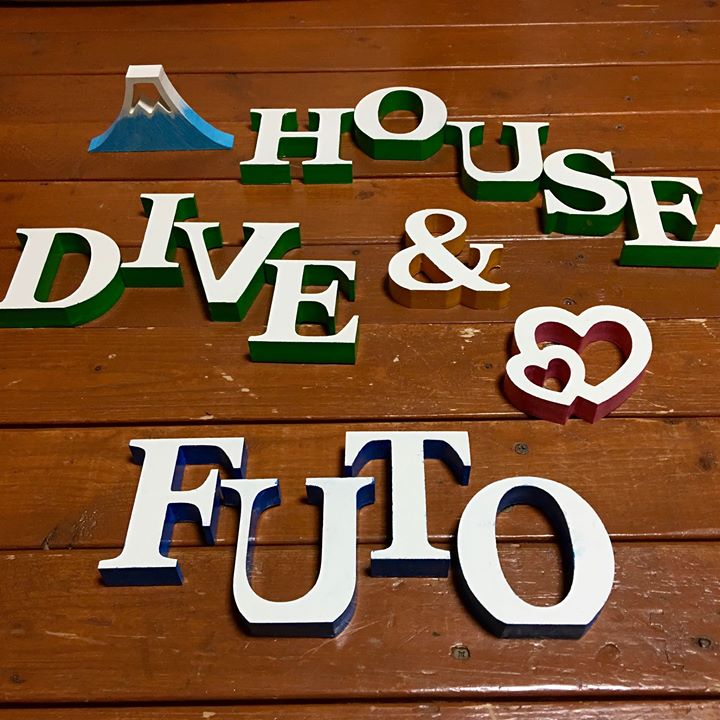 Dive & House FUTO
ダイブ&ハウス富戸
We are a CMAS diving service operating in FUTO area. We are located only a walking distance from Futo's beach point "Yokobama".
Ocean of Futo caters to all kinds of divers with diverse marine life due to it's underwater terrain. The entry point is has a diving entry and exit slope with guide a guide rope to assist the divers.
The diving site offers, white sand bottom and jagged rocky area, giving shelters to many different endemic marine life.
Booking & Pay Method
Direct Shop Booking
Booking Information
Booking is done directly with "Dive & House FUTO".
Shop Rules
Our Tour Model Plan
・09:00-09:30 Meet at Diving Service
10:00-11:00 1st Dive
12:00-13:00 Lunch rest
14:00-15:00 2nd Dive
15:00-16:30 Gear packing and Log time
【Note from NPO】
Diving in Japan, like other diving service around the globe, require you to fill out a "Medical form" before diving. Refusing to do this, you may not be allowed to dive due to safety precautions.
 NPO Japan Diving Experience advises you to proactively fill out the form linked from below.
 It is a Medical Statement provided by The World Recreational Scuba Training Council (WRSTC).
Link to RSTC Medical form
http://wrstc.com/downloads/10%20-%20Medical%20Guidelines.pdf
Diving Fee
2Tank Beach Guide 15,400yen (Include Guide fee/Weights)
Additional 1Tank Beach dive 7,150yen *Summer only(Mid May to Mid September)
Additional 2,200yen to travel to the West coast of Izu peninsula to dive due to weather.
Diving Information
*The price include Tax.
*The fee may be changed without notice. Please inquire to NPO Japan Diving Experience.  
*For Credit card please inquire.
Rental Fee
Full set(not include suites) 3,500yen
Rental Information
*The price include Tax.
*Rental price is per day.
*The fee may be changed without notice. Please inquire to Dive & House FUTO directly.
Location
Address
3-855 Futo, Ito-Shi, Shizuoka prefecture