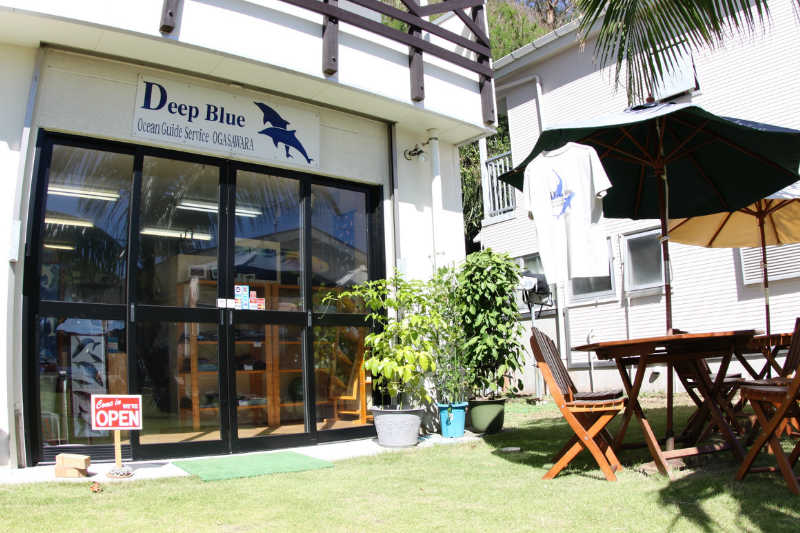 Deep Blue Ocean Guide Service OGASAWARA
ディープブルー オーシャンガイドサービス
Located in front of the Futami Port, Chichijima Island, the gate way to all the diving area in Ogasawara.
 The diving service is at the 1st floor of Chichijima View Hotel. It is only a minute walk from the ferry arriving to this Island.  Due to this location, you will find diving with us, a very non stressful experience. From the time you arrive till the last minute to your departure, we can assist you to make your stay an experience you will ever forget.
Our facility is dedicated to the needs of the divers.  This also can be said about our diving Boat. Total capacity of 24 passenger and crew, we keep our guests numbers between 10-15 for comfort. We have warm shower to warm you and toilet onboard. An necessity for a long cruise out to the best diving spot in the area.
 Large cabin to relax and keeping you away from the sun. The 2nd deck is perfect for whale and dolphin watching opportunity. The entry and exit point has a large ladder to ease your stress.
 We dive from Chichijima Island where our diving service are, and up north to Keita area and Hahajima Island.
【Note from NPO】
On the day of Diving, the Diving Shop will have limited English available. But please don't be alarmed. NPO will assist regarding prior questions and enquiry for your booking. We will advise you how your diving will be on the day. The Guide will communicate with you using translation application in land and during your dive, sign language with will be reviewed before your dive.
Booking & Pay Method
Booking through NPO Japan Diving Experience
Booking Information
The booking will be done through NPO Japan Diving Experience. NPO Japan Diving Experience will try to clarify your concerns before your diving trip.
Shop Details
04998-2-7280 (Japanese)

info@d-blue.info (Japanese)

PADI
Shop Rules
Our Diving Style
Boat diving: Day trip will be 2-3 dive with lunch onboard. We will not be coming back to the port between dives. We often drift dive but can anchor and do a more slow diving for beginners.
We will do a check dive for all guests to check the skill level and will decide on the diving points for the group. Even if you haven't dove for a while, you can refresh and remember your skills during this check dive.                                                            【Note from NPO】
Diving in Japan, like other diving service around the globe, require you to fill out a "Medical form" before diving. Refusing to do this, you may not be allowed to dive due to safety precautions.
NPO Japan Diving Experience advises you to proactively fill out the form linked from below.It is a Medical Statement provided by The World Recreational Scuba Training Council (WRSTC).
Link to RSTC Medical form
http://wrstc.com/downloads/10%20-%20Medical%20Guidelines.pdf
Diving Fee
2Tank Beach Guide 14,580yen (Include Guide fee/Weights)
3Tank Beach Guide 18,900yen (Include Guide fee/Weights)
KeitaTour(Himejima area): 19,440yen (Include Guide fee/Weights)
KeitaTour(Mukojima area): 21,600yen (Include Guide fee/Weights)
Night Diving (Beach) 7,560yen
Night Diving (Boat) 9,720yen
1Tank Refresh diving course(including rental) 16,200yen
Additonal 1Tank Refresh dive 6,480yen
Companion Boat fee(Non diver) 6,480yen
(Keita area) Companion Boat fee(Non diver) 9,720yen
Diving Information
Above fee include tax
The diving fee may change without notice so please inquire NPO Japan Diving Experience for details.
*Please note that prices may change without announcement. NPO will check the latest prices upon your request.
Rental Fee
Full rental 7,560yen
Regulator 2,160yen
BCD 2,160yen
Wet Suit 2,160yen
Mask/Snorkel/Fin/Boots set 2,160yen
Digital camera rental(TG4) 2,160yen
Rental Information
*The price includes Tax
The rental fee may change without notice so please inquire NPO Japan Diving Experience for details.
Booking through NPO Japan Diving Experience