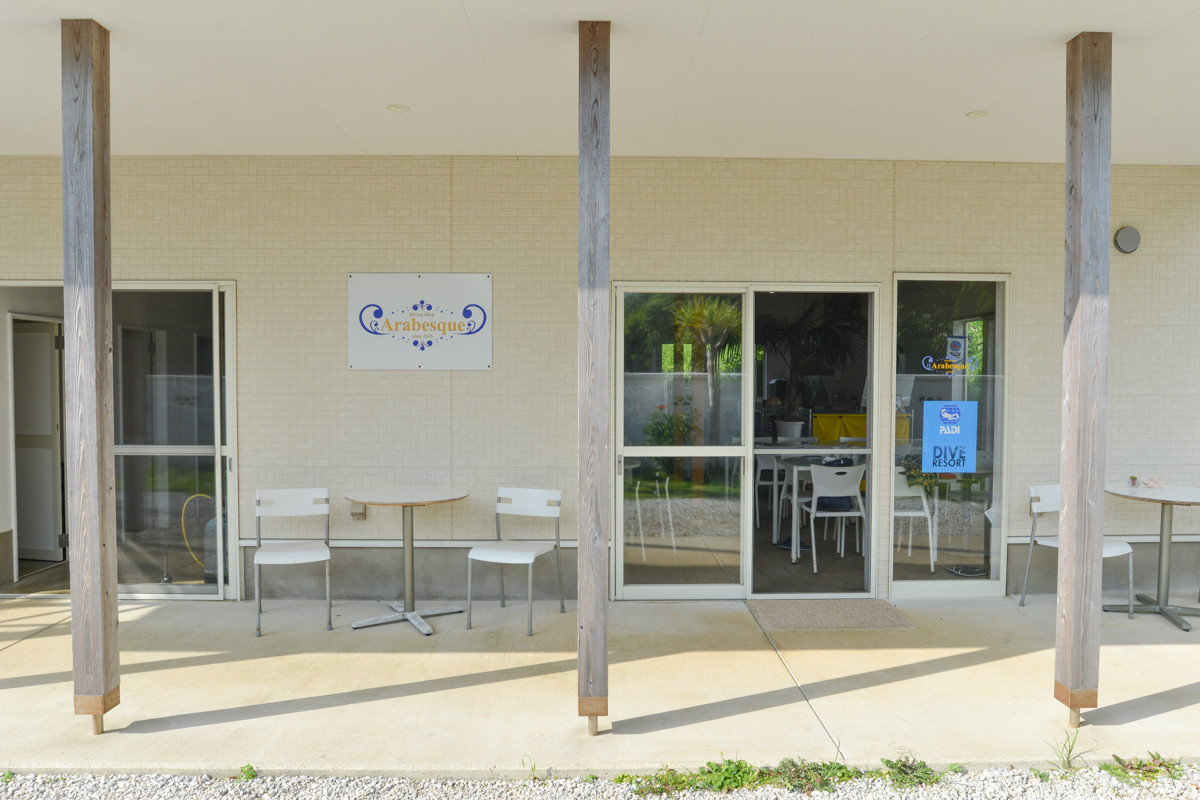 Diving Shop Arabesque
八丈島ダイビングショップ アラベスク
We at Arabesque welcomes intenational snorkelers to experience the beautiful waters of Hachijyojima Island!!
What we believe
Value
  " Sharing the wonderful experience through diving and having a great day together"
 We will offer you experiences such as "fish watching" "Underwater photography skill training" "Fun diving" and "Snorkeling". Also after a day at the beach, we can enjoy the "Fire flies" "Glowing mushrooms" and "star gazing". BBQ is also an option.
 If you want to enjoy your stay to the fullest,  come visit us!
Safety
 Due to the isolated Islands location in the middle of the ocean with the black warm current around the Island, the weather conditions does change quickly.
As a PADI dive resort, we work hard to make sure your diving is safe. Safety comes first.
・Signal Mirror, Dive alert, Float are always available.
・We have a strict emergency Assistant Plan
・We have safety related courses to offer.
・Buddy system are in place
・We offer 32%Nitrox tanks without an extra cost.
Diving style
 We cater from beginners to the skilled. For novice divers, we offer many courses for skill training. Fro skilled divers, we will guide you our wonderful diving sites to fully enjoy our beautiful Hachijojima ocean. We can also assist you with your underwater photo shoots, if you are an underwater photographer.
 Diving is an activity to became a part of nature. We will try to understand your needs and will work hard to try to make it happen.
We look forward to you visit.
【Important Notice to non divers】
Here at "Diving Shop Arabesque", we want to show everyone the beauty of our Hachijojima Island ocean. Even if you don't hold a diving license(C-card), we can show you the beautiful underwater scenery through our snorkel tours. If you are interested please inquire through the NPO.
Booking & Pay Method
Booking through NPO Japan Diving Experience
Booking Information
The booking will be done through NPO Japan Diving Experience. NPO Japan Diving Experience will try to clarify your concerns before your diving trip.
Shop Details
04996-9-5838 (Japanese)

arabesque8.2015@gmail.com (Japanese)

PADI
Shop Rules
*We only accept maximum of 6 guests at each underwater tour.
【Note from NPO】
Diving in Japan, like other diving service around the globe, require you to fill out a "Medical form" before diving. Refusing to do this, you may not be allowed to dive due to safety precautions.
NPO Japan Diving Experience advises you to proactively fill out the form linked from below.
It is a Medical Statement provided by The World Recreational Scuba Training Council (WRSTC).
Link to RSTC Medical form
http://wrstc.com/downloads/10%20-%20Medical%20Guidelines.pdf
Diving Fee
【SNORKELING PLAN】
Snorkeling Fee( 2.5hours) 6,300yen (Include snorkeling gear and Tax/Bring your swimming wear)
【DIVING PLAN】
1Tank Beach Guide 7,500yen (Include Guide fee/Weights)
2Tank Beach Guide 12,800yen (Include Guide fee/Weights)
3Tank Beach Guide 17,500yen (Include Guide fee/Weights)
Early morning diving Additional +1,000yen to your Tank fee
Night diving Additional +1,500yen to your Tank fee(Include Chemical tank light)
Boat diving Additonal +3,240yen to your Tank fee
Diving Information
Above fee does not include tax
The diving fee may change without notice so please inquire NPO Japan Diving Experience for details.
For Snorkeling please inquire to NPO JAPAN DIVING EXPERIENCE.
Rental Fee
Full rental (Wet suit) 8,000yen
Mask,Fins,Snorkel set 1,500yen
BCD 2,600JPY
Regulator 2,600yen
Dive computer 1,000yen
Underwater camera(TG-3) 1,000yen
Dry Suit 4,500yen
Wet Suit 2,000yen
Other rentals i.e. Underwater light, Gloves, Hood 500yen/each
Rental Information
*The price does not include Tax.
The rental fee may change without notice so please inquire NPO Japan Diving Experience for details.
Location
Address
1-363 Okago, Hachijojimahachijomachi, Tokyo
Access Information
By Air
From Haneda Airport there is a schedule flight to Hachijyojima airport.
(Approx. 50min/Daily 3 flights)
ANA 1891 Haneda 07:30 Departure → Hachijyo 08:25 Arrival
ANA 1893 Haneda 12:15 Departure → Hachijyo 13:10 Arrival
ANA 1895 Haneda 15:50 Departure → Hachijyo 16:40 Arrival
*Please check the ANA time schedule for latest schedule.
By Boat
From Takebashi Pier  approx. 10hours
Takebashi sanbashi 22:30 Departure -> Hachijyo 08:50 Arrival
●Google map
https://www.google.com/maps/dir/?api=1&destination=33.1024106,139.779582
Booking through NPO Japan Diving Experience